Event Description
Festival is from October 3rd, 2019 (Friday) to October 13th, 2019 (Sunday).

International Film Festival of Catalonia
Almost 50 years old (started in 1968)
A film festival set in a Mediterranean beach resort
Official Film Festival for Catalonia
Spain's oldest
Sitges Film Festival Red Carpet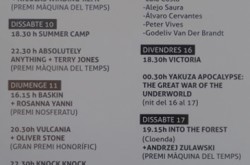 Click image for close up : Opens in new window
Known for Science fiction, Horror & Fantasy genres
Large Cinema at the main venue (Melia Hotel)
Various Screenings at Cinemas around Sitges, including the historic Prado
Lots of film & non-film, support events, around Sitges
San Sebastian Bay is filled with merchandise stalls, by the beach
Added trains run from Barcelona to Sitges every night during the film festival (last train is often 01:30 am)
HIGHLIGHTS
Catalan and Spanish Cinema
Asian Cinema
South Korea Cinema
Japanese Cinema
Latin American Cinema
Event on Sitges Events : SitgesEvents.com: http://www.sitgesevents.com/sitges-international-film-festival/
Organizers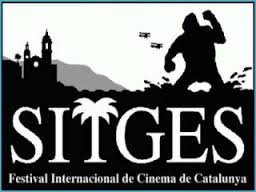 Sitges Film Festival Foundation
Sant Honorat, 32-34 08870 Sitges, Barcelona
administracio@sitgesfilmfestival.com
+34 671 552 188
info@sitgesfilmfestival.com
Short Description
SITGES – International Fantastic Film Festival of Catalonia

Fantasy & Horror film festival with the most media impact in Catalonia, since 1968.

Involving directors and producers like Quentin Tarantino, Sir Anthony Hopkins, Jodie Foster, Paul Verhoeven, Ralph Fiennes, George A. Romero, Cameron Diaz, Viggo Mortensen, Terry Gilliam, Rutger Hauer, Sarah Michelle Gellar, John Landis, Joe Dante, Zoë Bell, Dino de Laurentii, Takashi Miike, Wim Wenders, Tony Curtis, David Cronenberg, Vanessa Redgrave, Darren Aronofsky, Brad Dourif, John McNaughton, Peter Greenaway, John Woo, Park Chan-Wook, Johnnie To, Paul Naschy, Ray Liotta, Jon Voight, Sam Raimi, Robert Englund, Tarsem Singh, Roger Corman, Mira Sorvino, Santiago Segura, Narciso Ibáñez Serrador, Guillermo del Toro, Kim Ki Duk, Álex de la Iglesia, Aitana Sánchez Gijón.
Event Information
administracio@sitgesfilmfestival.com
Visited 5659 times, 2 Visits today