The aim is to gather plastic & rubbish, especially the knotted/tangled up stuff, BEFORE it reaches the sea.
In a fun way (any excuse!)
With coffee at Playa Golf Hotel Sitges, next to where the river meets the sea. As we assemble.
https://www.google.com/maps/@41.2238028,1.7834356,18z?hl=en-GB (past Terramar end, of promenade)
Before doing some good work until tired & finishing with a drink at Hola Beach Bar, a little further down (be rude not to!).
And possibly grab any washed up/discarded rubbish, which the Council target (or don't… some feel!), on the walk down.
Suggest:
Gloves
Tongs
Heavy duty bags
Hats
Sunscreen
Sunglasses
Shopping Trolley??
We will bring 'Anti Bacterial Hand Wash/Clean ups'
Clean UP Europe day : Organized by the Waste Agency of Catalonia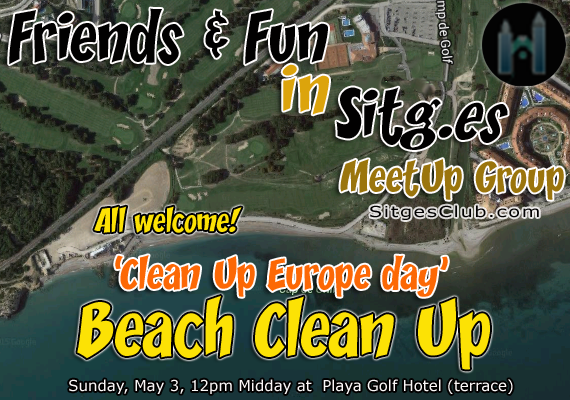 MORE ON: Clean UP Europe day
http://xarxaenxarxa.diba.cat/news/2015/04/30/catalunya-participa-amb-111-accions-de-neteja-campanya-lets-clean-up-europe
In Europe, the 8th, 9th and 10th of May is celebrated campaign Let's Clean up Europe! consists in organizing conferences popular natural areas clean.
In Catalonia, public and private institutions offer more than 110 natural environments of our country can engage citizens of all ages.
All cleaning action responds to environmental problems caused by uncontrolled discharges in natural (forests, rivers, beaches, streams …) to avoid potential contamination and restore the habitat and landscape. Beyond this, the action also has a high potential for raising awareness of citizenship, being a good opportunity to see directly the effect of anti-social behavior.
We encourage you to look for the nearest town , to participate in a cleansing action!
The campaign Let's Clean up Europe! is organized by the Waste Agency of Catalonia .
The actions have the support of the Network of Cities and Towns for Sustainability , for purposes of promotion and coordination, and the Barcelona Provincial Council , through the provision of material (sacks, bags, gloves …).
Dissemination through #cleanupeurope #letscleanupCAT
Agenda http://www.arc.cat/webarc/jsp/cud/ca/cercar.jsf